Aug 28th, 2017
??????? 
What began as an outlandish idea, sparked by a wild hair in Alice Tunison's kitchen, quickly grew to become a full-fledged real-life adventure. We will drive down to the south to watch the Great American Eclipse. Our longest road-trip in Gypsee Bungalow to-date. 
Trevor and I researched and called campsite after campsite (only the ones within the path of totality, of course), to request a spot for Aug 20th and 21st. Each call ended with a letdown that sounded something like this, in the sweetest southern accent: "Thank you for calling, but our campgrounds are full-up during the eclipse... sorry about that".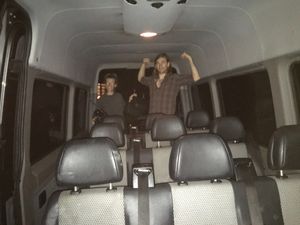 I was about to give up when I called Bald Mountain Camping Resort in Hiawassee, Georgia. It was perfect timing... we snagged their last spot available! Lot #55. Hallelujah! The roadtrip was on. 
Now, to find friends who could come with us... we only had room for 2 or 3, since we had to sleep inside the van each night (no room for a tent on our campsite). Marisa Nelson and Courtney Shaw were in! We were about to bring our favorite Gabriella Greco with us, until a last-minute snafu kept her obligated to stay in the city. 
The weeks leading up to the departure date had me in a Pinterest frenzy. Just ask Trev... I was obsessed, spending an hour or two each night looking up ideas for quick and affordable ways to "glamp-out" our Gypsee Bungalow.
We removed all but one row of passenger seats to make room for our sleeping bags (special thanks to Trevor's brother, Wesley, for helping us with that). We made custom mosquito screens that attach magnetically over the two front windows and the back doors so we could sleep with a cool breeze and zero bugs. We packed a futon pad, some yoga mats, and lots of pillows for extra comfort. We bought some ice packs for the cooler, a wicked cool water jug, and some jumper cables (just in case!). And with that, we were ready for our adventure to begin!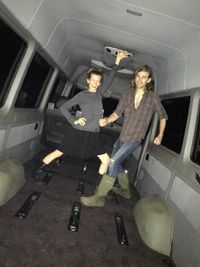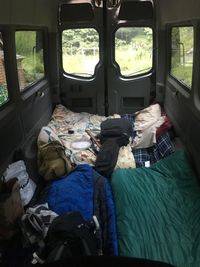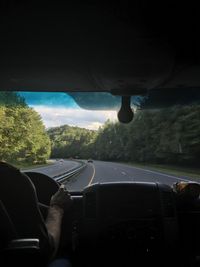 **************************************************
With a tank full of diesel and a hankering for some Georgia peaches, Trev and I first set out to Newark, NJ to pick up Marisa and Courtney on that one corner of Penn Station with a taco truck on it... you know the one. 
They hopped in the van at 4:37 pm and we were off to the races, making a B-line for those sweet peaches... well, maybe not a B-line. In reality, we took our time. We drove through the most spectacular thunder and lightning storm while listening to the latest mixes of our new album, "Stay Magical". The storm slowed us down a great deal, but it was so spectacular, no one seemed to mind. Since we were taking our time, we thought it might be fun to stop in Gettysburg and show Marisa and Courtney some of Ron's monuments. I'm glad we did! Gettysburg was beautiful. Even though it was after sundown and we couldn't get in to the gravesite to see the "Friend to Friend", we still had a good time walking around town, paying a visit to the Dobbin House, smelling handmade soy candles from the coffee shop across the street, walking down the main drag past Zoltar and the gaggle of ghost tour companies, eating raspberry sorbet from Kilwin's... memories. We stealth-fully drove up the entry way to see my favorite of Ron's monuments, the Elizabeth Thorne Memorial. The mosquitos reminded us we weren't supposed to be there after hours, but it was worth all the bites. Trevor showed us the beetle he sculpted, that Ron incorporated into the monument. So cool! Back in the van, taking refuge from the skeeters, we drove to the Delaware Memorial and took it all in, while lightning from the storm continued to kiss the clouds on the horizon, turning the dark of night into momentary flashes of twilight, as if the gods were enjoying a game of aerial hopscotch. I can see them now, hopping in their togas and Skechers light-up sneakers. Those gods are so 1993...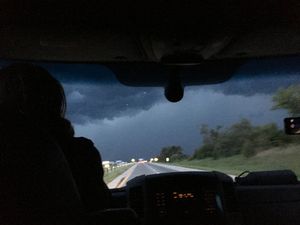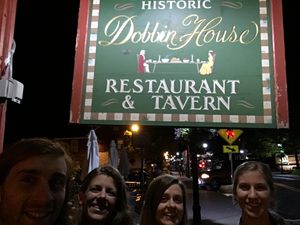 Onward! We drove to a rest stop somewhere in northern Virginia and settled in around 2:30am, surrounded by campers in RVs and truckers in Semis, lulled to sleep by Trevor's guitar musings, accompanied by the humming of vehicles passing on Interstate 81. More peaceful than you'd think.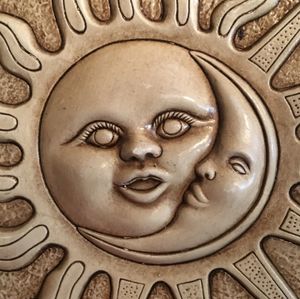 The next morning, we awoke in a sauna promptly one hour before my alarm clock was set to go off... Womp womp. 
On the upside, it helped us to get on the road sooner. We rolled out around 10am and stopped for lunch at a Mexican restaurant called El Burrito Loco in Glade Springs, Virginia- near the border of Tennessee. We met an amazing couple, Lee and Alexandra (happy birthday!!), with their sweet 1 year old baby girl, Evelyn. She greeted us with an adorably confused look on her face and her hands outstretched, as if to ask us, "Where have you been!? I haven't seen you in forever! What's new, guys!?" It was the cutest thing. They, too, were on their way to see the solar eclipse. They are basically living my future dream. We bonded over our love for sustainable building practices and renewable energy. Honestly, we could've talked for hours, but we ordered our food to-go and got back on the road. (Now we are FB friends with Lee. Hi Lee!) Trevor snapped a cool picture of the art inside the restaurant right before we left. It was an eclipse. How perfect. :)
We drove through rolling farmlands, past vine-covered trees on tree-covered hills, which turned into mountains and steep inclines, which tuckered out poor Gypsee Bungalow's turbo engine... but we found a safe place to pull off and let her rest. She recovered beautifully. There was a moment of panic though, when we could only putter uphill at 40mph with no power or acceleration... thank goodness it was only temporary!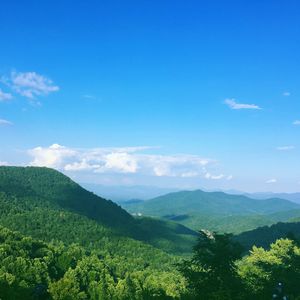 We made it to the top of a mountain pass in North Carolina- I think it was in the Nantahala National Forest- and stopped at a lookout, where I FaceTimed with my parents, Mark and Carol Nelson, who were enjoying the last couple days of their summer vacation, relaxing at Mike and Deb's pool. 
We made our way down the mountain and finally passed the Georgia border line just before 8pm. It was a Sunday, so we knew we had to get to a grocery store asap or else we would miss our chance to buy food to stock our coolers. We pulled in to one that was just closing... gah! But a nice young employee let us know that the grocery store down the street would still be open. Phwewf! 
The first thing we looked for in this grocery store... you guessed it... Georgia peaches. Well, this part you won't believe. The only peaches in this whole grocery store were from California. Are you kidding me!? We drove all the way to Georgia, only to buy California peaches!? Jeeeez... 
Trevor asked the cashier, "hey, where are all the Georgia peaches?" To which, the gentleman replied simply by pointing to all the women in the general vicinity. ...good one. ? 
In the parking lot, we packed the cold food into our coolers and made our way 15 mins down a scenic winding road to our final destination: Bald Mountain Camping Resort. We made it!!! (*Insert Mario Bros 3 game-winning sound bite*)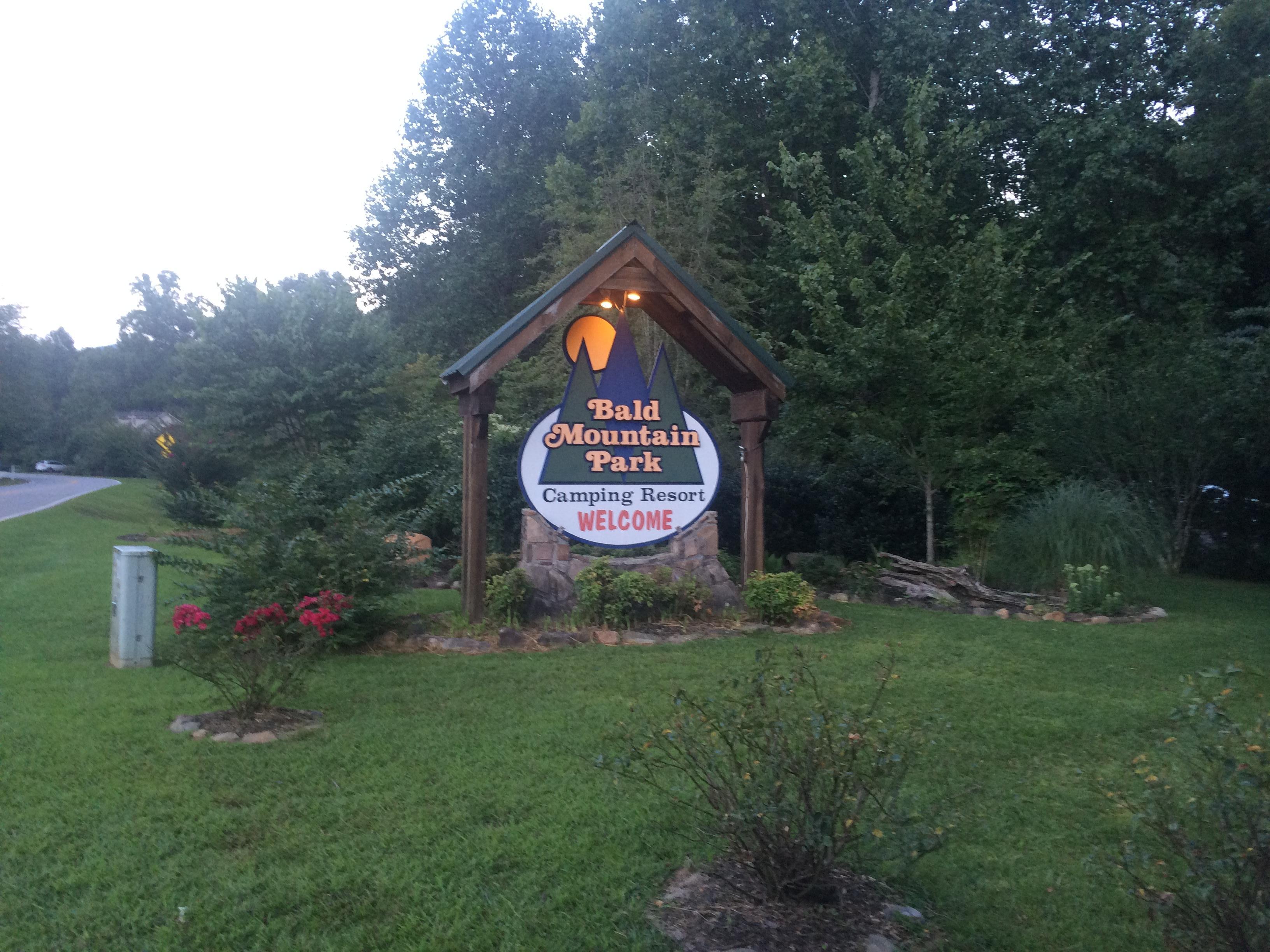 We were about to settle in, when we realized we didn't have any firewood. The office was closed now, so our only option was to take our chance looking for that sign "Firewood 25¢" that we thought we passed somewhere along the winding road. It took us a few U turns to actually find the sign, but we did! We called the phone number and waited a half hour for a gentleman, Derwin, to pull up with his trailer of firewood. This guy must've been 85 years old. He looked like he worked with his hands all his life. What an interesting fellow. He was so sweet and soft spoken with an almost inaudible southern drawl. We bought $7 worth and made our way back to our campsite, long after sunset. We backed in to our spot, so the back doors of the van could be opened to the soothing sounds of the creek that meandered through the campgrounds. We were lucky to have the spot we did- it had a gorgeous view to wake up to, and it was a short walk from the restrooms. Score!! We started a fire, set up our magnetized mosquito nets, ate dinner, brushed our teeth and hit the hay.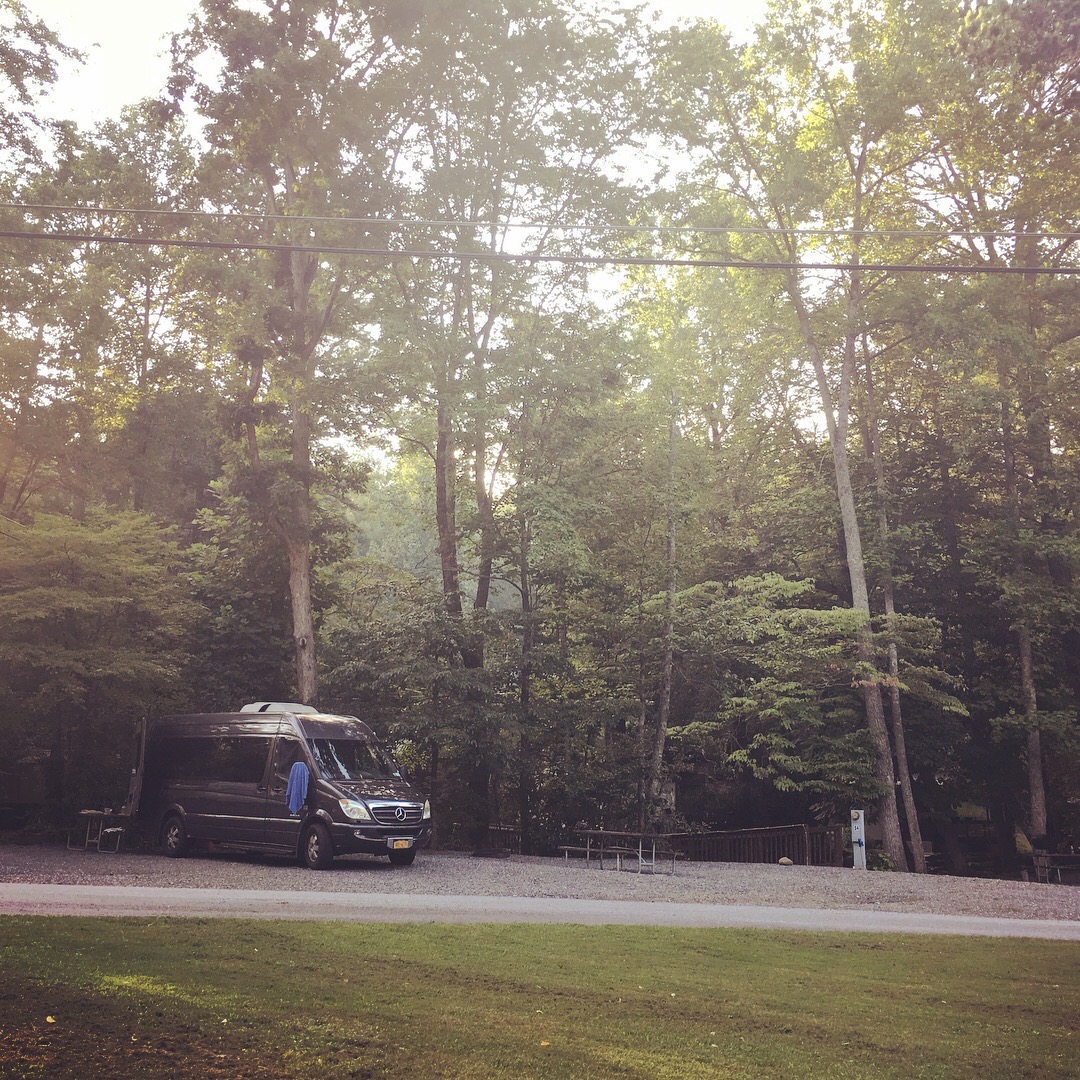 Now we get to the best part of the whole trip... the day of the eclipse!! We woke up early so Trev and I could go to the front office to finalize our paperwork and get our vehicle tag for our stay, then we ate breakfast and went straight to the swimming pool! Our neighbors, a 9 or 10 year old boy named Alex and his mom, Stephanie, were at the pool, too. Alex was obsessed with Trevor. He glommed on to him right away, climbing onto Trev's shoulders and squealing like a piglet every time Trev threw him into the water. It was fun to watch. The eclipse was going to happen around 2:30-ish, so we gave ourselves ample time to walk back to our campsite, shower, change, and search for the perfect eclipse-viewing spot in the grassy field. 
Walking to the field, I could already tell the energy had shifted somehow. It wasn't until we laid our blanket down and set out our beautiful sun-stones on the grass (such a thoughtful gift! Love you, Courtney.) that I looked up through my eclipse glasses, and sure enough, the moon had already been making its way across the path of the sun. It was almost half-way covered now. The sun is so incredibly powerful that even with only half of its rays reaching the earth, it was still super bright out. In fact, it didn't get much darker until the very last few minutes before the eclipse was in totality. And boy, those last few moments were exciting!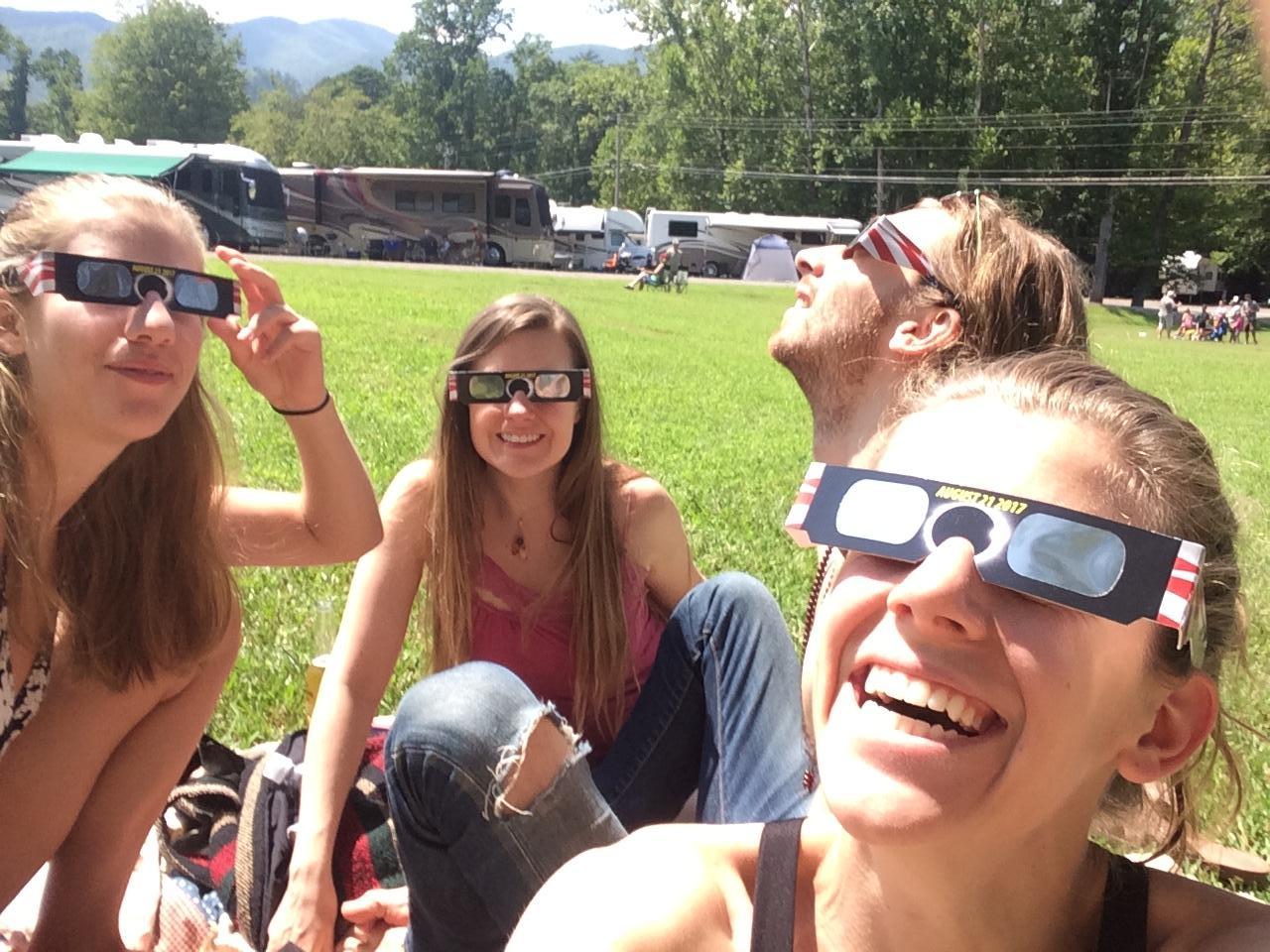 Because we were in a valley, surrounded by breathtaking mountains, we could watch the moon's shadow sweep across the terrain from one side to another, swallowing the daylight as we sat in what felt like a bowl of trees. The temperature dropped as our world instantly turned from day to twilight. Even the security lamps on the campgrounds turned on. It was a peculiar twilight, however, because the light source was not tucked behind the mountains like a normal sunset. Rather, the sun was high in the sky, like a black hole, silhouetted by a ring of white light. The resulting shadows being cast around us were unlike anything I had ever seen before- the edges were so crisp, like I was watching my shadow in hi-def. It was unreal! For two minutes and thirty seconds, all the campers in that field connected in our shared wonderment. Oohs and aaahs and gasps and wows echoed in one communal chorus. It was magical. 
And then! A bright flash of light sprang out from the lower right side of the ring. I looked down at my feet in the grass and saw ripples of light, snaking across the field as the moon's shadow slithered over the opposite mountain. It was so cool, you guys! So unbelievably cool. There was a diamond ring, framing a black hole in the sky, the diamond growing larger as time passed, until it was a crescent smile, embracing the edge of darkness. 
Eventually, the sun's rays lifted us out of twilight and returned us to day. As people were packing up their camping chairs and walking to their RVs, Courtney spread her deck of animal totem cards in a circle in the center of our blanket. She led us through a Native American compass prayer, where we acknowledged and called upon the spirit energy of the North, East, South, and West. We also called forth the spirits of the animals that entered our minds- Courtney called upon the lion for courage, the eagle for wisdom, the goose and a whole bunch of other animals with beautiful imagery- she's very good at this. Trevor called upon the toad and the centipede. I called upon the buffalo, the bear, the daddy long leg, and the bluebird. Marisa called upon the grasshopper and the house cat. Right then, a tiny green grasshopper jumped on Marisa's leg. I'm not kidding. Then we sat down and picked one card from the deck - Trevor pulled the spirit of the bear (the animal spirit I had called upon!), I pulled the lizard, Marisa the dog, and Courtney the fox. Courtney read the symbolism of each spirit animal and we all gained a little insight into our current life's situations, which stuck with us the rest of the day. There were several moments that brought us back to thinking about our animal totems. It was pretty cool how it all fit together.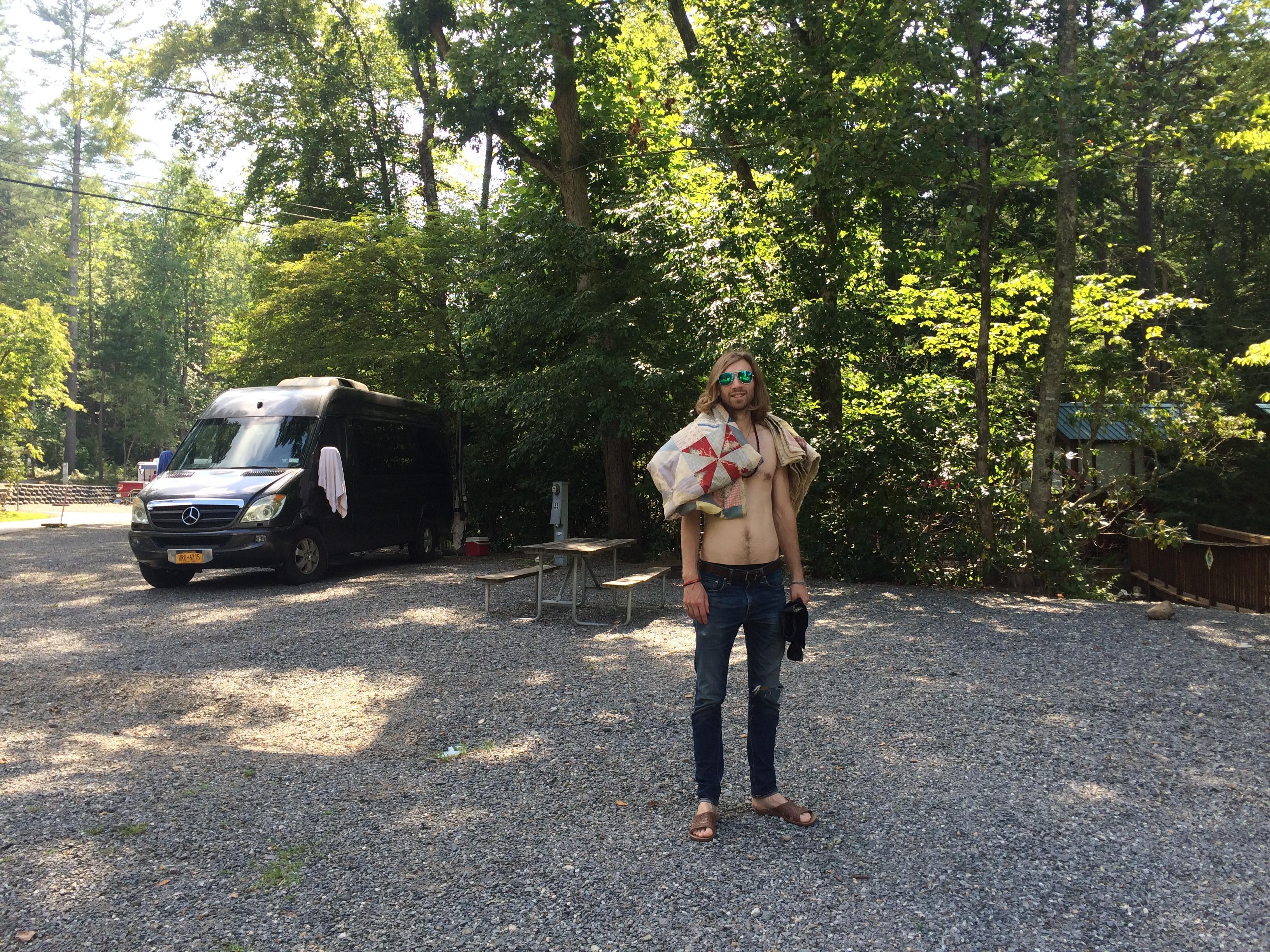 We enjoyed the rest of the afternoon coddled in the arms of Mother Nature, the sun's rays now peaking through fluffy white clouds that found their way over the mountains. We walked around the campgrounds and circled the pond, where there were several geese hanging out. THE GOOSE! One of Courtney's spirit animals!! We hung out with the geese for a little while, watching them, studying them. They were beautiful. We walked over to some teeter totters (not a see-saw) and had a grand old time. Like kids again. It was great! Back at camp, Trevor and I played frisbee in the freshly mowed velvet green grass next to our site. I can't begin to tell you how incredibly liberating it was to run through the grass and not worry a lick about a tick. Hallelujah!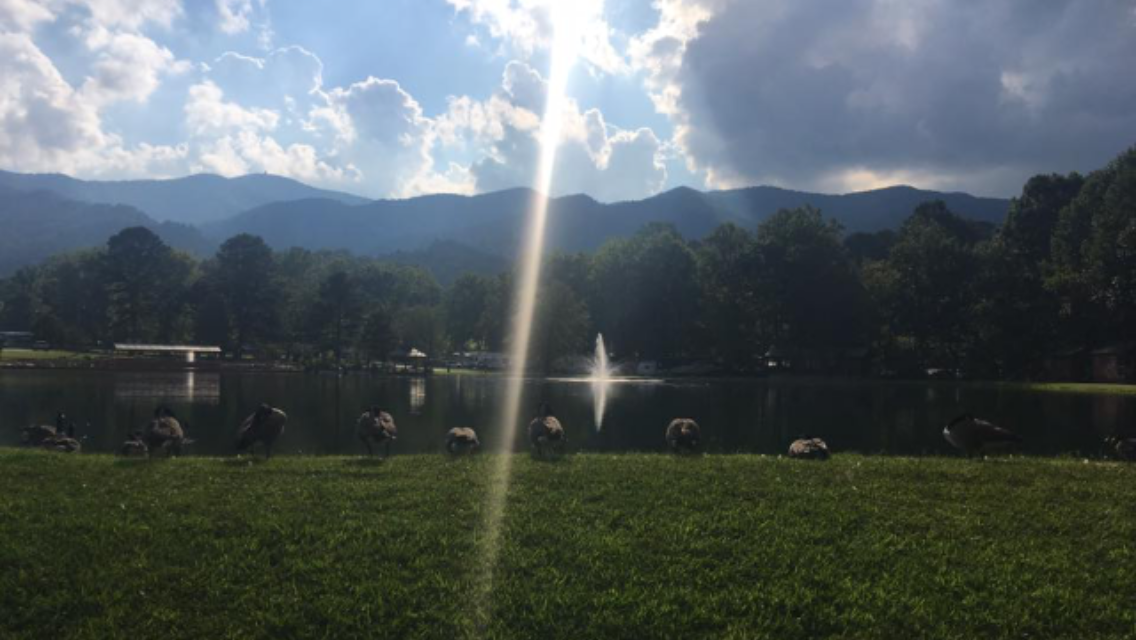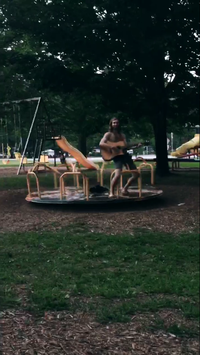 We walked to a different playground- the one next to the field we sat in earlier, and we saw a cute couple. They were walking what looked like small dogs from a distance. As we approached, we could see that they were none other than… house cats!! BOTH OF MARISA'S ANIMAL TOTEMS CAME TO HER! We laughed so hard. Also, Trevor had his guitar with him and strummed a mysterious chord as he started to sing, "Caaaats on a leash. I've never seen nothing like that before. Caaaaaats on a leash!" He hopped on the merry go round on the playground and started singing his new song while spinning around and around in the center. It was a sight to behold… 
On our way back to Gypsee Bungalow, we met a nice woman, Peg, walking her golden retriever, Baby. We talked for a long time and bonded when she told us her daughter is a teacher, just like our moms are- Marisa's and mine, AND Courtney's, AND Trevor's moms are all teachers. Funny, no? Courtney told Peg that Trevor and I have a band and that Peg should listen to our music because it's so amazing, like food for the soul. Peg said she can't wait to hear it. We need to take Courtney with us everywhere we go. :) 
As the sun set, we enjoyed a smorgasbord of food by our campfire, which was nestled between the creek and our picnic table next to Gypsee Bungalow. It felt like home. Even if just for the evening. Trevor had the impulse to check his phone, a bit of a rarity when we are surrounded by nature... and I will never forget what happened next. He said, "oh, shit!" And then he frantically read a txt and then called back immediately. He didn't tell us who it was until we heard him say, "Hey John, what's up?" 
John is our music sync-licensing agent… Trevor sounded concerned on the phone. What could it be? Trevor's eyes eventually lit up. It was something good! He said, "Wow. This is incredible. Yes, I can do this right away." He hung up and said, "Nyna, Apple wants to license "Key to Love" for their campaign. I need to sign the contract immediately." I couldn't believe it! How is it possible that the day of the solar eclipse- the most magical day I've ever experienced- just got even more magical!? It was wild. We called to tell our folks the good news. Excitement ensued. :)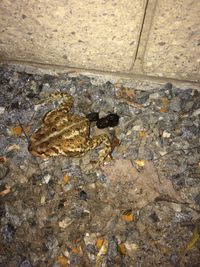 We went up to the rest rooms to brush our teeth and saw a toad sitting outside the covered entrance. A TOAD! ONE OF TREVOR'S SPIRIT ANIMALS!! He was the biggest toad I had ever seen. So fat and warty! Trevor and Courtney watched it for a little while as Marisa and I went inside to brush our teeth. When we came out of the bathroom, Trevor and Courtney said, "Oh my gosh guys, look. It's pooping!" And sure enough. It was. We took a picture to prove it... if I were to have come across that poop after the toad had left, there is no way I could've guessed that it belonged to him. I would've said a chihuahua or something. Gross… Hahahaha! ??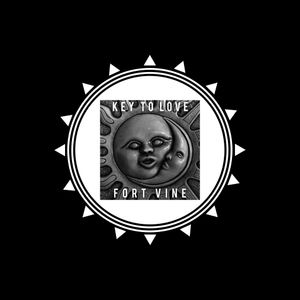 As we settled in to Gypsee Bungalow to go to sleep, Trevor had the realization that our song, "Key to Love", needed to be published as soon as possible, since it was an unreleased track at that point. All of the people who were about to hear it won't have any way of searching for it… we couldn't let that happen. The only way to get it out there was to email the track to our manager, Gabby, who could put it up on our website from our roommate Boover's laptop in our living room in NYC - the universe works in mysterious ways. If Gabby had come on the trip with us, none of this would've been possible, since we didn't bring a laptop with us. Thankfully, Trev walked her through the whole process and she was able to post the song on our Fort Vine website. Success! (Thank you, Gabby!) We ended up using the photo Trevor took of the solar eclipse art in El Burrito Loco for the cover image of "Key To Love".
We also realized that driving the whole way back to NYC from Georgia in one day was not going to happen. Originally, the plan was to go to sleep early and wake up before dawn to start driving… We were up until 3am getting everything prepped for Apple's campaign release and there was still so much to do. We had to let our boss know that we weren't going to make it to our shift on Wednesday. And neither was Courtney. Oof. Triple whammy. He took the news really well. We're so lucky to have such a supportive boss. (Thank you, Jason!) 
That night, I fell asleep a changed Nyna, super charged by the eclipse, watching the universe align in ways I never dreamed possible, laying in gratitude for my friends and family, for music, and for our Gypsee Bungalow. I could sense there were going to be many exciting things on the horizon. Even now, as I recount that experience, I feel the anticipation and giddiness I felt that night. It's the same way I felt as I went to sleep the evening before my first day of kindergarten, and the night before I moved to New York. Time is a strange force of nature... cyclical and linear all at once... (Thank you, Universe!) 

The next morning, while we packed up our site, a gentleman who lives full time in his RV on the campgrounds drove up in his golf cart with his dog, Bailey. He spoke to us for a while, in his sweet southern voice, just on the border of being intelligible. He was kind, but as soon as he brought up Trump, I knew I needed to end this conversation in the most diplomatic way I could. While we disagreed Trump was doing a good job... we did agree there are a lot of problems with our mainstream media, dividing people up. "Both sides are supposed to work together", he said.  Bingo- there's something no one could argue against. This was my in- I nodded my head, "Exactly. I feel like at the end of the day, we all want the same thing. We want peace. And the first step to getting there is to look inside your heart and make sure you are at peace, causing no harm, only sending love out into the world. If everyone took that route, we would be in a much better place." As much as I believe in the words I told him, I knew it was kind of an easy way out of a difficult conversation… but it was past noon, we were late for our checkout, and we didn't have much time to get into a long discussion about politics, as much as I would've liked. Nevertheless, he perked up, looked Trevor straight in the eyes and said, "You've found yourself a good woman right there. Not too many people talking like that these days." 
Before he drove away, he invited us to see his RV, (apparently he had a king size bed in there!) but it was already past our checkout time, so we had to leave. We waved goodbye to him as we pulled out of the campgrounds, he waved back with a smile on his face. 
Stopping in a coffee shop on our way out of Hiawassee, we got some sandwiches for the road and made our way back up the mountain, headed north. We had the idea to find another campground to sleep at, maybe near the halfway point in Virginia. Our directions suggested Stoney Creek Campground in a town called Greenville... ha - that's the same name as a town near to where Trevor grew up. I called, and we secured a spot. We had 6 hours of driving before we got there… or so we thought… 
On the road, Marisa and Courtney looked up Apple's Instagram page and saw that they posted their campaign with our song!! It was a video montage all about the solar eclipse!!! How wild is that!? We had no idea! We thought it was going to be a campaign selling a new product or something. This was even cooler!!!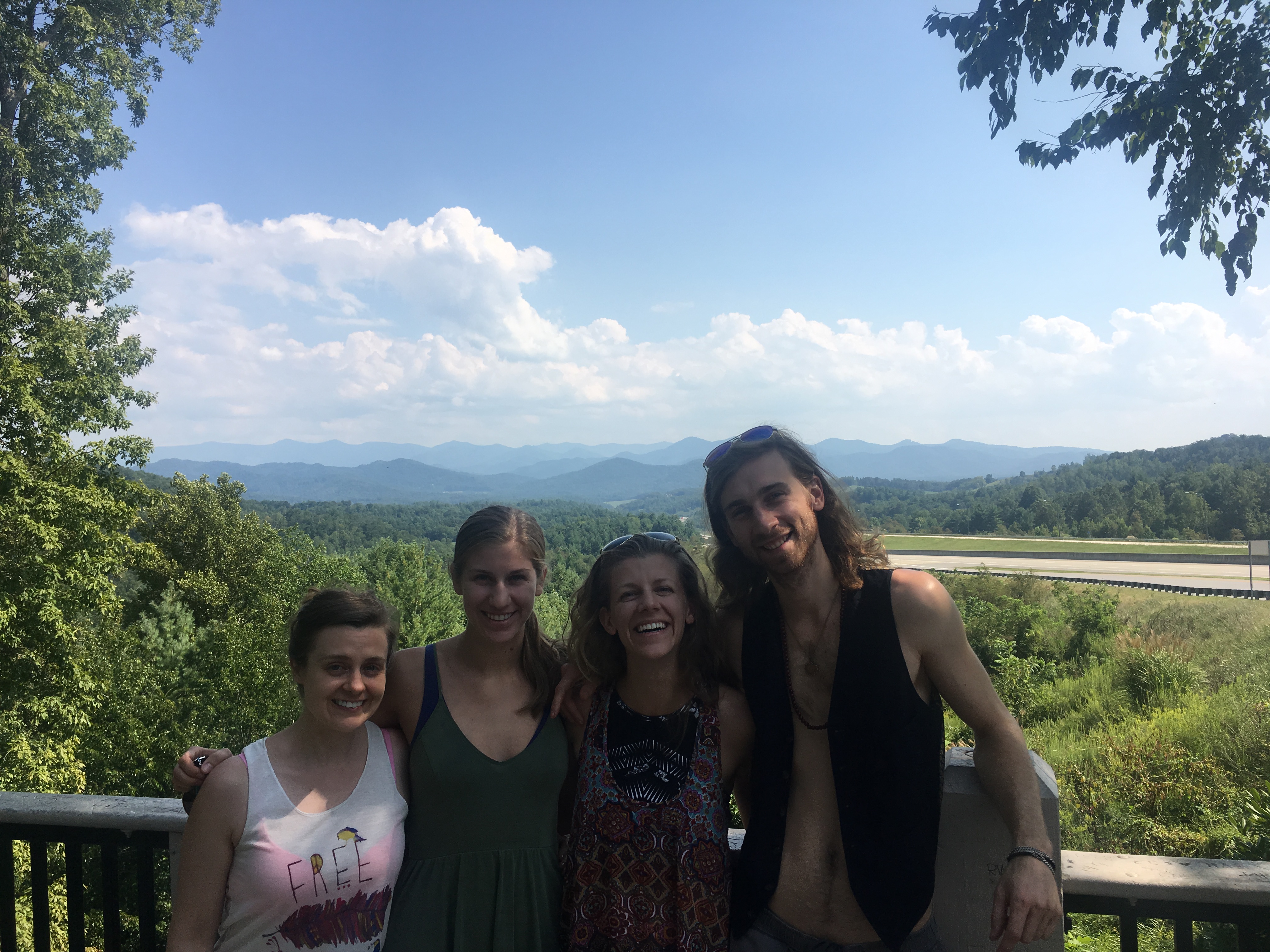 We stopped at a lookout point in North Carolina and met the sweetest couple from NJ, Vera and Alex. We shared our good news with them. They were excited for us and offered to take a photo of the four of us to capture the moment. My only regret is we didn't get a photo with all six of us in it. But Courtney snapped a pic of Trev showing them the Apple video. They were so cool. But, we exchanged email addresses, so we'll keep in touch. (Thank you, Vera and Alex!)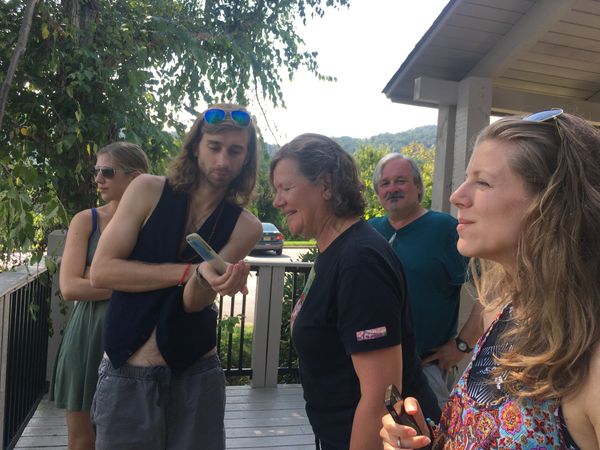 We got back on the road for a couple of hours, and stopped when we saw three college students stranded on the side of the entrance to the highway. Their car broke down. We offered to help, but they already had AAA coming to the rescue, so we continued on our way to the town of Marion, VA for some grub in a sushi restaurant called "Yummy Yummy". I parallel parked the van for the first time. Trev talked me through it. He said I'm a pro. ?? 
Then we saw a cicada on the sidewalk. I dreamed about it that night. Weird...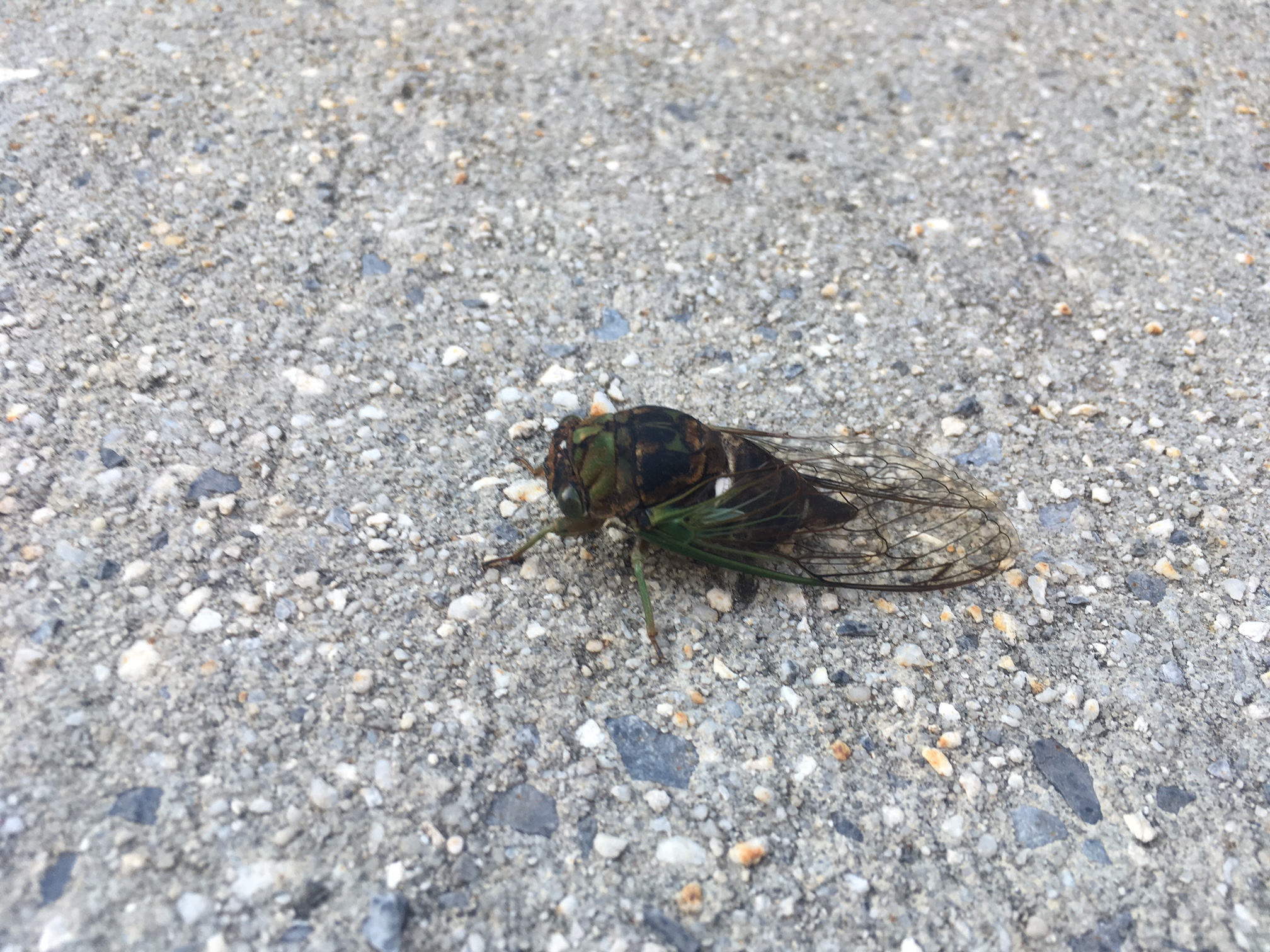 The rest of our trip that day was supposed to only be 2.5 hours... but with all the traffic on the highway, it ended up taking us FOREVER to get to Stoney Creek. (*Traveling at 5mph*…"Woohoo! Road trip!!") We left the restaurant at 7pm and didn't pull in to the campgrounds until after 11. Sheesh! I guess we weren't the only ones who traveled south to see the eclipse... 
We went straight to sleep after setting up our site at Stoney Creek. A nice man named Joe saw us pull in, and drove over in his golf cart to help us move the picnic table to make room for our van. We lucked out again with our spot- right near the restrooms and a view of trees to wake up to the next morning. Score! Later we learned that Joe was one of the owners of the campgrounds. (Thank you, Joe!)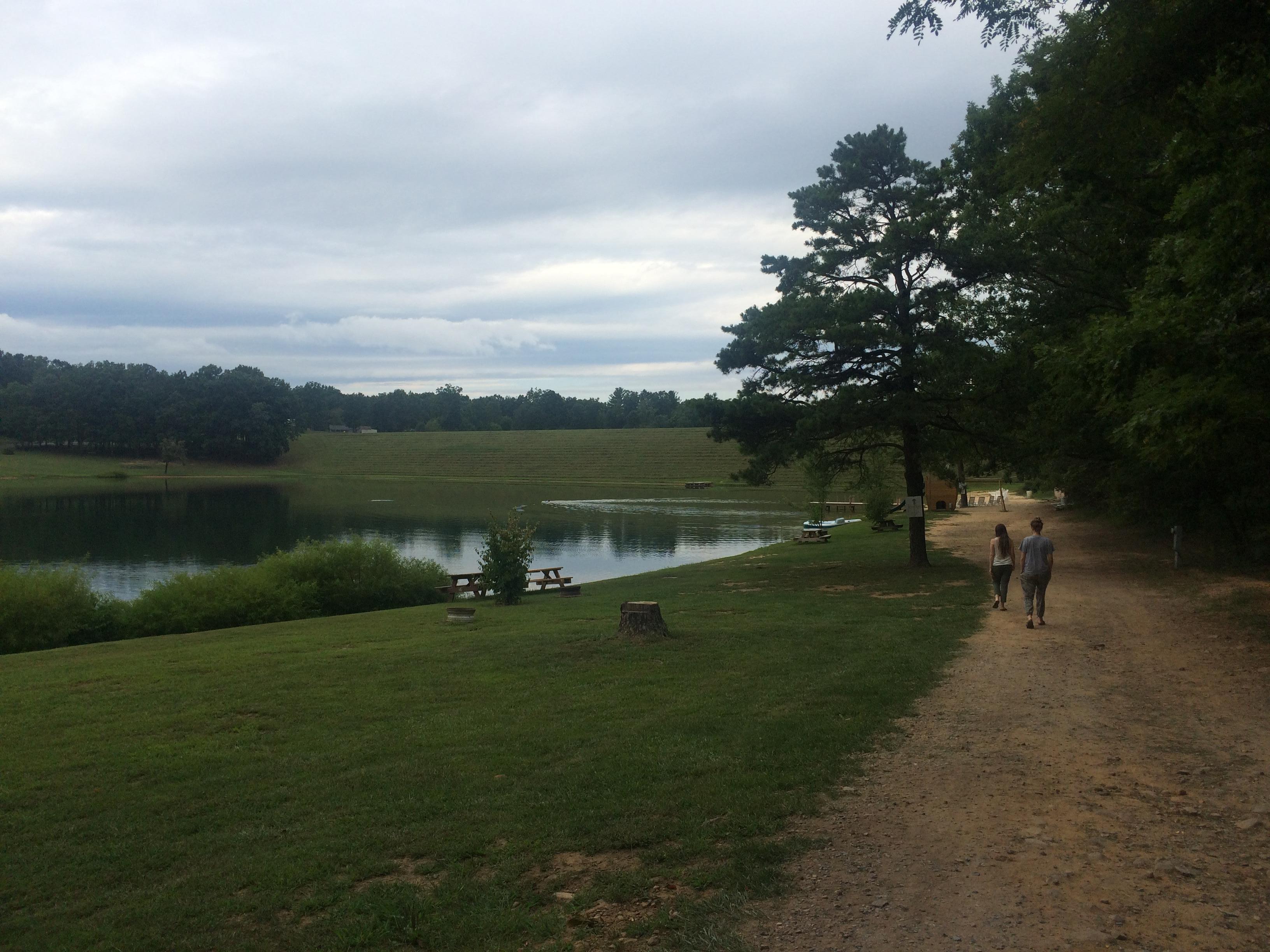 When the sun peeked up over the hill, and the birds began to sing, Trevor woke right up and jumped in the pond.  This was a sign to me- we need to have a pond to swim in someday, wherever we decide to build our home. That will make Trev hop out of bed with gusto every morning! ;) 
Marisa, Courtney, and I ate peanut butter and jelly pita sandwiches for breakfast (breakfast of champions!) and then we eventually joined Trevor in the pond, taking turns jumping off the dock. We had the whole place to ourselves! There was a pirate ship playground on the beach. We joked that we should film us singing our Pirate song on it. (Yes, Trevor wrote an actual song about pirates… his mom is a part time pirate on Lake George… are you surprised?) But, it never happened… oh, well. We did film each other jumping off the dock, though! Trevor found pieces of a $20 bill in the sand. It looked like it had been eaten by a lawn mower. He's always finding money on the ground. Maybe he can turn it in to the bank for a new $20 later?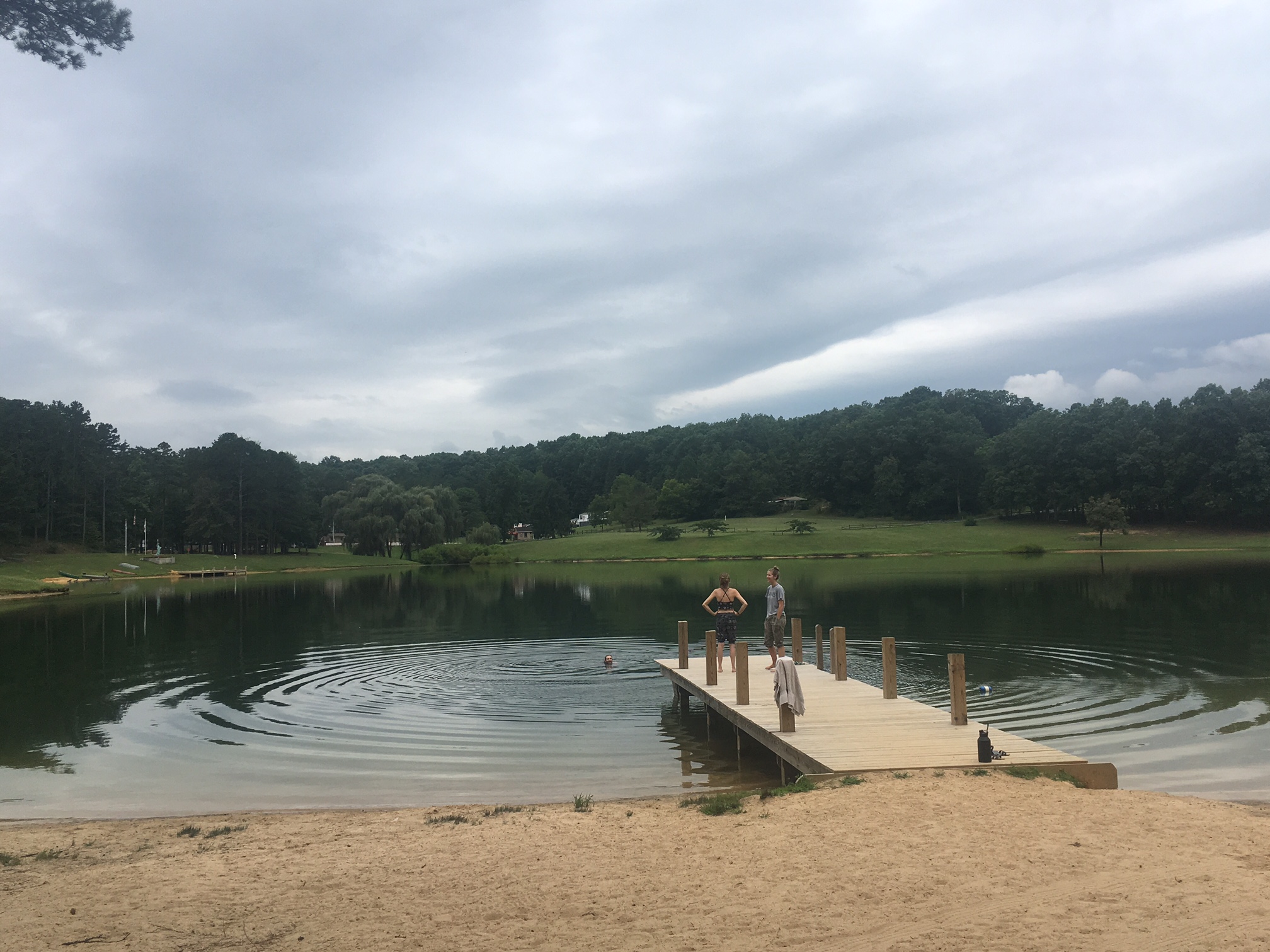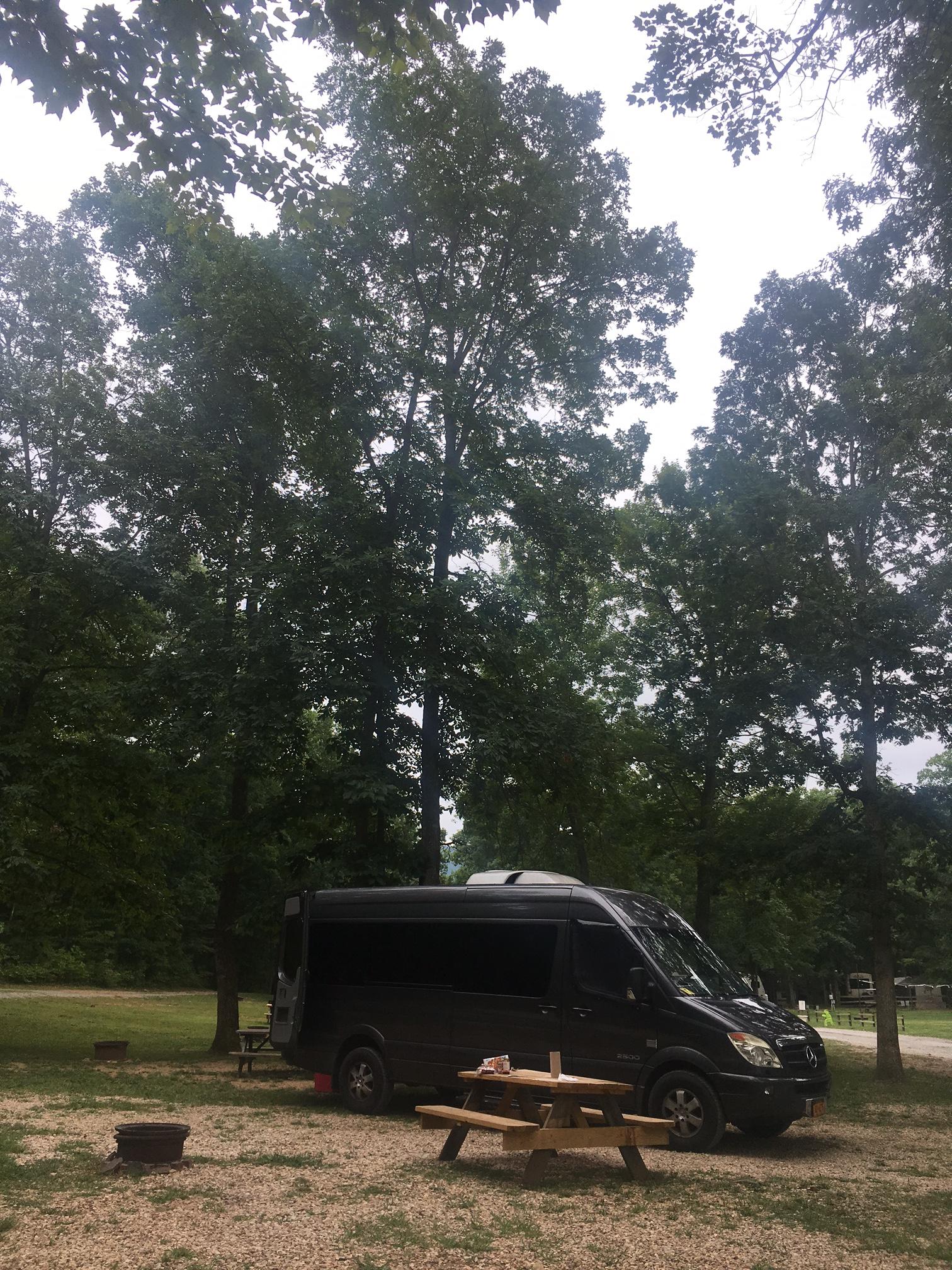 There came a moment where all of us could feel the push and pull of reluctance and responsibility… it was time to leave. None of us wanted to. We could've stayed there all day, playing in the water. But we still had more than 6 hours of driving ahead of us, so we stopped by the front office to pay for our stay, and then made our way to I-81 North. We weren't on the highway for very long before we stopped in to eat at a family owned diner (we were hoping they had 24-hour breakfast… they didn't). But, they had an extensive "Vegetables" menu, with a few suspect options… Macaroni and cheese is a vegetable? …okay. 
All four of us ordered things off the "Vegetables" menu. A dead giveaway that we were not locals… The food arrived quickly and we dug in. It was delicious! But… 
First it was Marisa. On her third bite of vegetable soup, she said, "Oh, no! There's beef in here. What the heck?" Then it was Trevor, "Ummm… I think there's pork in these pinto beans." Then the waitress came over and we told her it seemed like there was meat in the "Vegetables" we ordered. She replied, "Oh, darn. I knew I should've asked you if you were vegetarians. You know there's meat in the collard greens you ate, too, right?" Hahahahaha… What!? We already finished eating all of our collard greens. Oye. We were not in Kansas anymore. Meat was thrown into almost every item listed under the "Vegetables" section of the menu? I guess we should've asked… We were about to order some pie, when Courtney asked if they put lard in their crust… they did. We ate zero pie. :(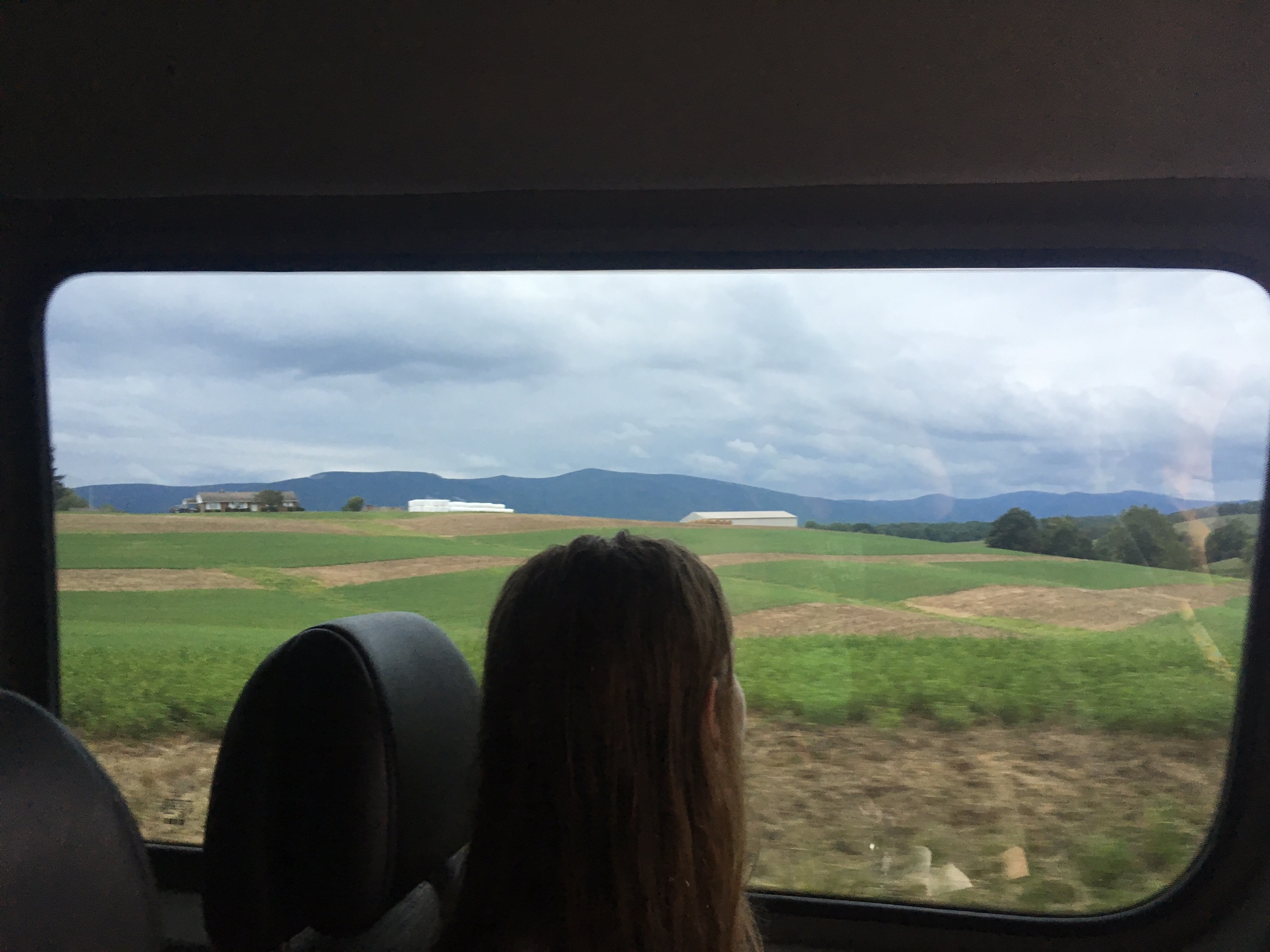 We continued up I-81, listening to podcasts, telling ghost stories, and talking about the procession of the equinoxes as it pertains to ancient Egypt and The Great Pyramids- one of Trevor's favorite subject. We drove for hours and hours, only stopping a couple of times at rest stops along the way. Eventually, we made it to New Jersey. Before Trevor and I continued on to Alice's house, we dropped Courtney and Marisa off in the same exact spot we had picked them up only a few days earlier… on that one corner of Penn Station with a taco truck on it. You know the one.